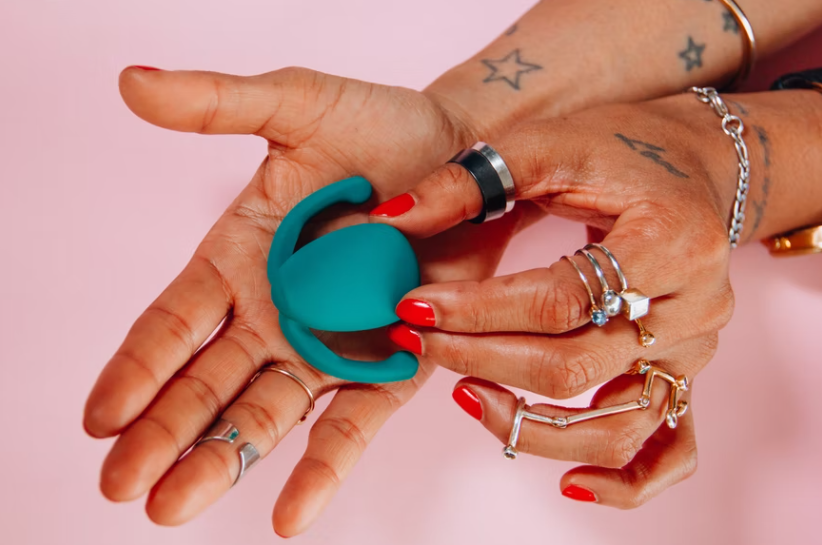 Top 10 Sex Toys for Couples to Make Sex More Awesome
Emotional connection is best but sexual intimacy is something no relationship can breathe without. Sex is surely the best way to show how much you desire your partner in your life. Sex toys can be a real investment in your sexual health and wellness. Apart from other things in relationships, Sex Toys can be a tricky thing to agree on, but you know what doing something exciting and new together, will surely heighten intimacy between both of you.
So if you have decided to say "Yes" to welcome these sex toys in your nightstand drawer, you might be wondering what to bring into your bedroom? Together, decide what kind of penetration you want, how intense you want the vibration (if at all), and whether or not you want to add BDSM to your routine...After all, there are thousands of ways to explore intimacy together.
We have listed out the top 10 Sex Toys for couples to make sex even more pleasurable. Check the list below and bring the hot sauce to your stuck indoors sex life.
Satisfyer Double Fun Partner Vibrator
During lovemaking, the Satisfyer Double Plus delivers both him and her with stimulating, additional stimulation. Its U shape makes it perfect & comfortable for both partners. The lower shaft is inserted into the vagina while the upper part rest on your clit. It uses beautiful vibrations to stimulate the clit, while the other end excites her from the inside. Satisfyer Double Fun Partner Vibrators are with very pleasant and indescribable sensations. Vibrations are very powerful, and allow you to feel a new kind of pleasure every time!
Easily managed and handled by remote. Compatible with the free Satisfyer App - Available on iOS and Android 2 powerful motors transmit intense vibration rhythms throughout the entire toy Ideally suited for couples.
Prestige Monica Wand
Made of high-quality materials and have powerful, deep vibrations. A push-button on the top of this wand vibrator allows you to modify the vibrator's speed in ten different types. In this manner, you can begin softly and gradually increase the intensity to the level you require at the time.
Allow this exquisite wand to take you on a heavenly pleasure journey.
Goddess Collection Apollo
Remote control Apollo Vibrating Egg will be the best investment for both parties, Not only will it give intense pleasure, but it is also great for internal stimulation, thanks to multiple speed and vibration settings. It has 3 buttons: a power button and 2 arrow buttons to change the vibrations. If Goddess Collection Apollo runs out of steam, you may use the provided USB charging cable to replenish the embedded batteries.
Stay Hard Tongue Cock Ring Blue
Designed to keep him harder and longer, the vibrating double cock ring is made of superior silicone to ensure a perfect fit. While the tongue attached will especially offer strong stimulation for her clitoris and drive her pussy crazy for you. Get this toy to enjoying more exciting and hot positions with her.
Bendy Sex Machine
Endless sexual positions are possible, thanks to the thrusting arm's nearly 360-degree rotation and adjustment of the Bendy Sex-Machine. Thrusting with great controllability - a realistic flexible dildo or silicone anal plug with a flexible, metal spring fits your body perfectly. Remote control with a 2-meter cord provides powerful orgasmic sensations.
Bendy Sex machine offers the perfect combination of unimaginable power, unrelenting speed, incredible angles & powerful orgasmic thrills that you have only dared dream of.
Secret Pleasure Chest - Red Dragon
Sex is all about both mental and physical games. The mental part is more difficult to "achieve" or get better at. So sex toys are a good way to shore up your physical game while you work on the mental part. This BDSM Set was created for couples who want to add BDSM to their sex schedule.
The box consists of a bondage rope, a ball gag, handcuffs, ankle cuffs, an eye mask, a flogger, and a collar with a leash. The handcuffs, collar, and ball gag are adjustable.
Loveboxxx - I Love Black Gift Set
There are a lot of toys out there, but we chose a few that help couples connect by boosting "what you do" for each other. A love balls with counterweights, Cock Ring, rabbit vibrator with rotating beads, eye mask, tickler will assist him in working harder and for longer periods of time.
Shunga Aphrodisiac Warming Oil Exotic Fruits
Brings one to a new level of ecstasy with Shunga Aphrodisiac Warming Oil Exotic Fruits. It's ideal & edible for erogenous zones. The warming is triggered by the breath. Exceptional taste. It stimulates the senses. A delectable edible warming oil designed to stimulate erogenous zones. Activate by the warm breath of soft intimate kisses.
Intimacy - The Sex Game For Couples
Intimacy is all about bonding and playfulness. Sex games for couples can be fun in a nonthreatening way and make you able to tackle the adventure of discussing your sexual desires.
"Intimacy - The sex game for couples" is a board game with a number of personal questions that need to be answered in a playful and intimate way. The game includes - 1 dice, 2 tokens, 14 sexual reward coins, and 2 question cards for 7 categories like Sex, Intimacy, Intrigue, Romance, Foreplay, Fantasy, and Kinky Adventures.
Blindfold Bondage Gear
Get blindfolded by your partner and have an erotic experience in your bedroom tonight. By taking away your sight, you have to 'see' with your other senses - like sound, touch, taste, and smell which is more intense. Lose yourself in the world of sexual fantasies.
Finally, It Is Now All Down To You
The right SEX Toy in the right mood can set you and your partner on fire. Want to tease and please your partner in different and new ways, is the secret of having amazing sex. Finding the right toy for you and your person is a bit of a (naked) guessing game. The top 10 Sex Toys listed here are a few go-to toys couples can turn to whether they're beginners with adult toys or just don't know where to start.
Here at Loveangels, there will be something for every couple.